Are you having any of these symptoms?
Hot flashes
Night sweats
Hair loss
Lowered libido
Weight gain
Day sweats
High levels of irritability
Low energy levels
If you are a woman and the answer is yes, you may be suffering from low progesterone.
Progesterone is mainly produced by the ovaries and helps regulate a woman's cycle and is crucial in maintaining pregnancy. When this hormone is chronically low, woman can experience numerous negative symptoms.
Unfortunately, most medical doctors believe the only way to regulate hormones is with prescribed synthetic pharmaceuticals that often come with a long list of harmful side effects. Medroxyprogesterone acetate (MPA) whose brand name is Depo-Provera is a synthetic progesterone and a known carcinogen that raises the risk of breast cancer. common side effects include menstrual disturbances such as absence of periods, abdominal pain, anxiety, and headaches. More serious side effects include bone loss, blood clots, allergic reactions, and liver problems.
Many women turn to birth control pills to control their hormones. But is this really the best solution? Taking birth control pills has risks.
So how can women get hormone balance without using dangerous synthetic hormones? Natural progesterone is the answer. But which type or brand should be used? There are so many products on drug store and grocery store shelves. It can be very confusing and many women waste tons of money and time trying products that just don't work.
When natural progesterone is taken internally, much of it is wasted as it passes through the digestive system. Creams are tricky as well…dosages and absorption can be so low that they simply don't work.
Get what you need
Natural Progesterone
No need for cycling and can be used every day
Allows a woman to get her natural balance back
Simple application
No need to measure or figure out complicated dosages
Backed by medical professionals (because we need that peace of mind)
Personally, taking natural progesterone cured my hot flashes and night sweats within days. I was completely sold after experiencing the difference. There are side benefits as well, but ridding myself of hot flashes was the primary. We all have that one thing we need to change!
Here is what natural progesterone can do…
Prevents 98% of hot flashes, day/night sweats, post-menopausal symptoms, migraines.
Aids in weight loss
May re-grow hair
Mood elevator
Good for insomnia
Soothes nerves
Improves bone density
Reduces breast tissue density
Improves libido
What I use daily?
At first I was very skeptical but the proof is in the pudding (or serum!). Young Living has an incredible product called Progessence Plus. It's USP grade progesterone along with 100% essential oils – Frankincense, Cedarwood, Bergamot and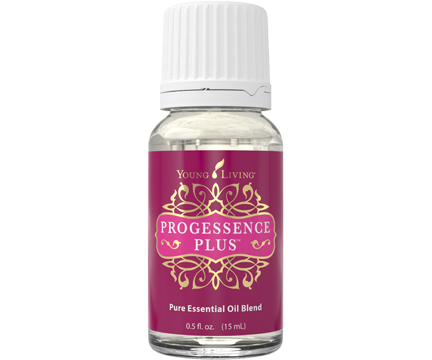 Peppermint. I use it twice daily and have been amazed by its calming effects as well as the reduction in perimenopause symptoms. It's not a miracle cure by itself but combined with a sensible diet, proper hydration and better sleep, you'll be happy with the results. It also has a wonderful scent! To get the full effect, use twice daily for at least two weeks and you'll feel the difference. Young Living members can order at the wholesale price. If you're new to Young Living, visit my site and I'm happy to help you get started with Progessence Plus Serum and other hormone balancing essential oils.
For other hormone balancing tips, read my post on Balancing Your Hormone Naturally.